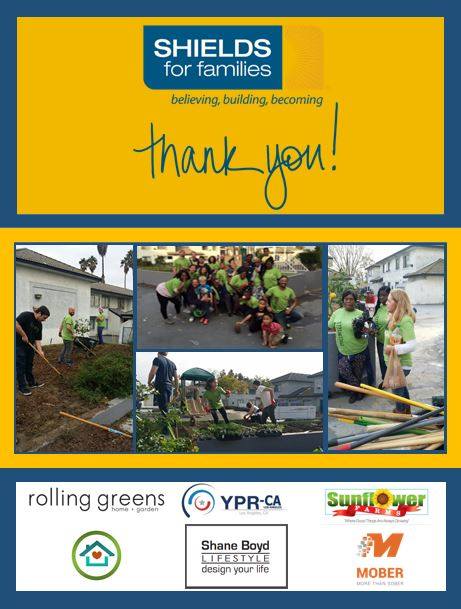 SHIELDS for Families collaborated with the Young People in Recovery (YPR – LA), and Lifestyle Landscape to kick off the yearlong beautification project of SHIELDS Keith Village Apartments, an 86 unit residential treatment, education, and job readiness facility for single parents and their children, through the Exodus program located in South Los Angeles.
With the efforts of Chapter Lead, Ted Collins (YPR-LA), Landscape architect Shane Boyd of Lifestyle and the SHIELDS Staff, on Jan. 16 the YPR teen volunteers, Exodus families, and staff, transformed the common area and play ground into a beautiful park, with planters of citrus trees, a vegetable garden, and herb garden and succulent plants and flowers.
Words cannot express how thankful we are for the amazing work that was done to beautify Keith Village for the families in the EXODUS program. Donations included plants, soil, tools and equipment. During the process, volunteers, including teens from Young People in Recovery, staff and EXODUS Families, landscaped, planted flowers and vegetables, and laid new mulch at several locations of the facility.
The families are excited to be able to grow fruits and vegetables for their own consumption besides enjoying a beautiful park setting. The overall appearance of Keith Village has changed. We couldn't be any more pleased with the results. Our families are now living in a more welcoming environment.
SHIELDS and the families are grateful for the new and welcoming park setting and to be able to tend and grow food from their own gardens.
Thank you for your help!