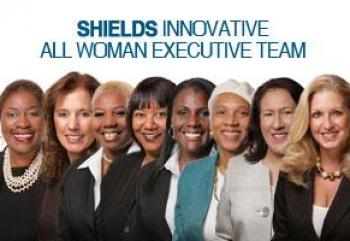 In the late 1980's SHIELDS for Families was founded in South Central Los Angeles by 3 women, Dr. Xylina Bean, Kathryn Icenhower, and Norma Mtume. Xylina continued to serve on the Board while Kathy and Norma continued leading the agency together. Soon after, Charlene Smith and Sara Tienda joined them to help lead SHIELDS for over 20 years. This year, SHIELDS expanded their executive leadership team from the original 4 to include a total of 8 women exclusively!
CEO Kathy Icenhower reflects on this milestone…
"I feel honored to be a part of an agency where so many people have given their passion and commitment to making a difference and I am humbled to be a part of an executive team that has stayed together for over 20 years in order to help guide and direct our vision. SHIELDS has grown tremendously in 20 years, today we operate on a $27 million budget that serves 7,000 families annually with 350+ staff members throughout our 35 comprehensive and collaborative programs. Therefore, the recent growth in our executive leadership team is just a testament to and necessary by-product of our ever-expanding services, programs, staff, clients, and community"
Check out the leading ladies of SHIELDS for Families by clicking HERE.
Photo Credit: AlbaVisuals