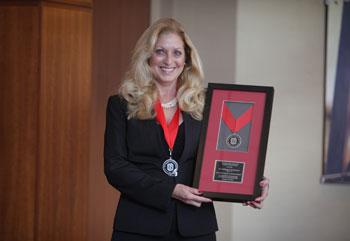 SHIELDS believes in Legacy…
Dr. Kathryn Icenhower, LCSW was inducted as a Distinguished Career Award Winner in The Ohio State University College of Social Work Alumni Hall of Fame for her exceptional professional achievements, initiatives, and leadership in one or more of the following areas: practice/clinical excellence, community development, advocacy, education, or administration.
Dr. Icenhower was nominated by Congresswoman Karen Bass and chosen as one of 5 out of 11,000 students by a selection committee of OSU faculty, community representatives, students, and past recipients.  She was honored as an inductee at the Annual Alumni Hall of Fame Luncheon on October 18th, 2013 where she was presented with a plaque and medal. In addition, her name, accomplishments, and photo will be displayed on the Alumni Hall of Fame Wall on the first floor of Stillman Hall at The Ohio State University College of Social Work.
Join us in congratulating Dr. Kathy Icenhower, Co-Founder and CEO of SHIELDS for Families on her much deserved Hall of Fame honor from her Alma Mater, THE Ohio State University. Go Buckeyes!
"It was at The Ohio State University that I learned how to be a social worker……my experience there established the foundation that has guided me throughout my professional career. I will always be proud to be a Buckeye….and this recognition was truly one of the greatest honors I have ever received." – Dr. Kathy Icenhower, PhD