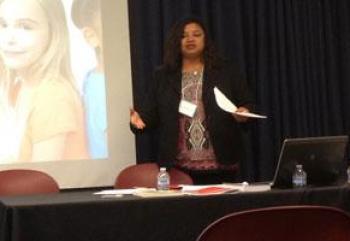 SHIELDS' Research and Evaluation Unit was selected to participate in a panel presentation for The Network for Social Work Management's 24th Annual Management Institute Achieving Impact In Complex Social Environments conference this May at Rutgers University in Newark, New Jersey.
Our proposal, "The SHIELDS Approach: Developing a Pathway to a Culture of Research and Practice" details our commitment to move the organization from an exclusive practice oriented agency to one that uses evaluation and research involving client participation at all levels, furthering our mission to provide culturally sensitive service models to our communities.
Research Analyst, Nona Hall-Sandoval presented, "The SHIELDS Approach: Developing a pathway toward a culture of inquiry in a nonprofit organization" while fellow Research Analyst, Denna presented on "Connecting Risk and Perinatal Service Systems: The Importance of Data and Service Integration".   This presentation was based on the research study that Patricia Villa facilitated with First 5 LA this past year. Patricia was there in spirit as she is home on maternity leave with her new baby boy, Victor. Denna happily filled in and did a fine job.
We congratulate our outstanding Research and Evaluation team of Nona Hall-Sandoval, Larry Ortiz and Erin Nakamura as well as Nona and Denna for their our goals of helping families tireless efforts in helping our families believe, build and become!