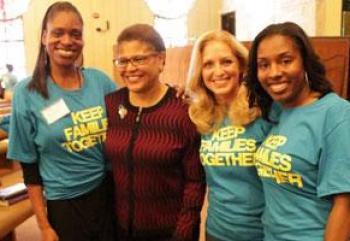 Radio station Exitos 93.9fm interviewed SHIELDS' Court Liason Patricia McKenna about Domestic Violence, its prevalence within the Latino population, and the available services in our community. Listen to the interview here (in Spanish) http://www.mediafire.com/?2dxaec4josgfzgs
Also, plan to attend a FREE forum on Domestic Violence on Saturday November 17th from 8:30am – 3:00pm at the Mexican Consulate Building – Raul Anguiano Room, 2401 W. 6th Street, Los Angeles CA 90057 (RSVP via email andelgado@sre.gob.mx or pperez@src.gob.mx or call # (213) 351 – 6818 or # (213) 368 – 2732
Art activities for children 5+ years
Transportation is not provided
Spread the word!
La Estacion de Radio Exitos 93.9 FM entrevisto a la representante de Shields for Families en la Corte, Patricia McKenna, acerca del problema de Violencia Domestica que prevalece en la comunidad Latina y los servicios que estan disponibles dentro de esta Comunidad. Puedes escuchar esta entrevista (en Espanol) http://www.mediafire.com/?2dxaec4josgfzgs
Ademas, habra un foro gratis de Violencia Domestica el dia Sabado, Noviembre 17th de las 8:30am a las 3:00pm en el Edificio del Consulado Mexicano – Oficina Raul Anguiano. La direccion es 2401 W. 6th Street, en la Ciudad de Los Angeles, CA 90057 (Reserva via email a andelgado@sre.gob.mx o pperez@src.gob.mx o tambien llamando al (213) 351-6818 o (213) 368-2732.
Habra actividades para ninos de 5 anos en adelante
No se proveera transportacion
¡Pasa la voz!