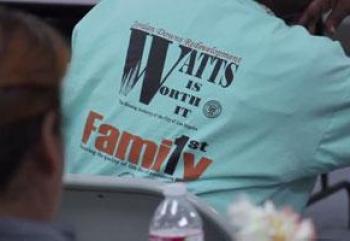 In an article written for the Los Angeles Times, Jessica Garrison reports that the Housing Authority of the City of Los Angeles plans to transform the Jordan Downs housing complex of 700 aging units (notorious to outsiders for its poverty, blight and violence but seen by many longtime residents, for all its problems, as a close-knit community worth preserving) into a mixed-income community of up to 1,400 apartments and condominiums with shops and restaurants in hopes that it will draw in more affluent residents willing to pay market rate to live side by side with the city's poorest.
Similar "mixed use" developments have sprung up across the country but experts say Jordan Downs is taking an approach that has not been tried on this scale. To ease the transition, the city has dispatched community coaches, teachers, social workers and therapists into the community as well as an abundance of social service programs focused on women since more than 60% of the tenants live in households headed by single mothers. Under contract with the housing authority, SHIELDS for Families, a leader in providing child welfare, children and youth, mental health, substance abuse and supportive services to families residing in South Los Angeles, is running many of these new programs.
"Most people would say it's ambitious, but I think it's essential," says SHIELDS CEO Kathryn Icenhower who shares the same commitment as L.A. Housing Authority Chief Executive Douglas Guthrie and Mayor Antonio Villaraigosa in improving the lives of the residents of Jordan Downs, where many families, particularly among the 40% of residents who are African American, have lived for generations.
Jessica Garrison's full article on the changes at Jordan Downs can be found on the Los Angeles Times Website by clicking HERE