BEHAVIORAL HEALTH SERVICES
At SHIELDS, we help build healthy minds, bodies and souls. Poor behavioral health and poverty are inextricably linked: People living in poverty are more likely to suffer from poor mental health, and people with behavioral health problems are more likely to slide into poverty. And the number of children experiencing behavioral health problems—especially immigrant children—is on the rise. That is why we offer the community a comprehensive lineup of assessment, substance abuse treatment, and mental health services in both English and Spanish.
Assessment Services
SHIELDS provides individuals seeking treatment for alcohol and drug treatment, mental heal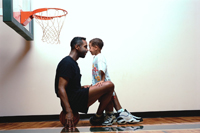 th and/or domestic violence services with screening, clinical assessment, treatment matching and linkage to services. Assessments are provided through SHIELDS' Community Services Assessment Center (CASC), the Multidisciplinary Assessment Team (MAT) which provides an in-depth assessment of children and families who come into contact with DCFS, and through co-located staff at the Compton Superior Court, Edelman Juvenile Dependency Court and the DCFS Compton Office.
Community Assessment Services Center (CASC): The CASC provides comprehensive assessments to individuals of any age in order to refer them to appropriate resources and services that meet their specific needs within SHIELDS and/or other community based organizations.
Multidisciplinary Assessment Team (MAT): SHIELDS' MAT is part of a collaborative effort to ensure the immediate and comprehensive assessment of children and youth under the jurisdiction of Child Welfare Services for the reunification of the family unit.
Co-located Assessment Services: SHIELDS' staff are located in the Compton Superior Court, Edelman Juvenile Dependency Court and the Compton office of the Department of Children and Family Services in order to facilitate access to behavioral health assessments as well as linkages to our programs and other local community-based organizations.
Substance Use Disorder Services
SHIELDS has
offered a comprehensive continuum of substance abuse treatment services since inception in 1991. Our programs offer a full continuum of treatment modalities, including early intervention, o
utpatient, day treatment, Drug Court, residential long term treatment, and alcohol and drug free living centers. All modalities offer a range of services that include: individual, group and family counseling; educational classes on life skills, parenting, HIV/AIDS, alcohol and drugs, and health and nutrition; vocational training and job placement; basic skills and high school education; support and 12 step groups; individual therapy, group therapy on trauma, grief and loss, and domestic violence; relapse prevention and Lifetime Aftercare. All treatment programs are certified by the State of California, and SHIELDS is certified to provide Drug Medi-Cal services in 6 locations.
Perinatal Programs: SHIELDS' perinatal programs, including Eden, Exodus and Genesis, serve adult parenting women with children 0-18 residing in Service Planning Area (SPA) 6 who are struggling with substance use disorders.
Outpatient Programs: SHIELDS' Ark program serves adults with substance abuse disorders who are part of the general outpatient, General Relief (GR), AB 109 prison re-entry, or Drug Court programs.
Co-Occurring Programs: SHIELDS' Eden and Revelation programs provide services to adult women and high-risk youth who present co-occurring substance abuse and mental health disorders.
Residential Programs: SHIELDS' Mount Carmel program provides residential treatment services to adults with substance use disorders as well as ex-offenders released under California's AB 109 legislation. Participants in our Drug Court and Community Collaborative Court programs are also eligible for residential treatment services.
Youth Programs: SHIELDS' Revelation program serves adolescents aged 12-20 who are experiencing both substance abuse and mental health disorders. Additionally, our Day Reporting Centers provide intensive outpatient mental health services to Probation-referred youth at local high schools.
Criminal Justice Programs: SHIELDS operates two diversion programs – Drug Court and the Community Collaborative Court – specifically designed and staffed to supervise Superior Court-referred felons. Additionally, our Place of Family program provides DUI, Domestic Violence, and Anger Management services to individuals who are ordered to participate in diversion programs by the criminal justice or child welfare systems.
Mental Health Services
SHIELDS currently o
ffers mental health services in the following four divisions:  Adult, Children, Juvenile Justice and Youth. Our mental health programs utilize evidence-based practices such as TF-CBT, Seeking Safety, MST, FFT, Child-Parent Psychotherapy, and Motivational Interviewing.  Services include assessments, individual, group and family therapy, medication support, crisis intervention, and case management. SHIELDS is also a certified Short-Doyle Medi-Cal Provider and has been contracted with the Los Angeles County Department of Mental Health since 1997.
SAMHSA's 24-Hour Toll-Free Treatment Referral Helpline
(Substance Abuse and Mental Health)