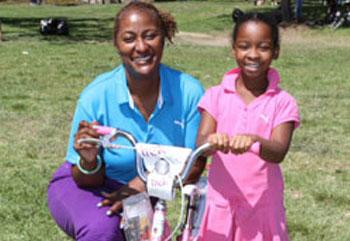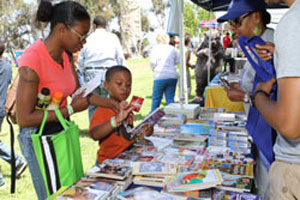 On July 13,
Assembly member Holly Mitchel
l
hosted the 3rd annual Christmas in July in Kenneth Hahn Park. It was a beautiful and fun-filled day, attended by over 100 families in the 54th Assembly District. Children from underserved communities who had shown scholastic improvement over the year were treated to vision and dental screenings, an obstacle course, a rock-climbing wall, school supplies, lessons on healthy cooking and protecting the environment, books, and much more-all at no cost to their families.
Jaime Sheehan, LCSW, Program Manager of the School-Based Mental Health Program at SHIELDS for Families, nominated several of her families for the event hosted by Assembly member Holly Mitchell. Three families were chosen and attended – here are their stories…
Family 1
A mother and her two children attended. Her son received a new bicycle and the mom stated, "I couldn't believe the shocked look on his face, he was thrilled"! They received small gifts at different booths and enjoyed the fun activities during the day. Mom appreciated the family time they got to spend together and hopes she has opportunities like this again.

Family 2
A mom and her two young daughters attended and the mom was so impressed by the event and thankful her girls received toys, Barbie's, and a brand new bike. The Mom stated that her children don't normally get things like this and believes the gifts will make a positive difference in their lives. The mom also shared how fun it was to participate in activities with her kids and to see how happy they were throughout the day.

Family 3
The mom was so grateful that the SHIELDS staff thought to link her family to the event and was ecstatic when they got invited to attend. Her children received numerous toys, new bikes, and her son won an iPad, an item she would never have been able to afford. More importantly, the mother stated how proud she was to see all her children celebrate together when her son's name was announced as the winner! The mom is so grateful she is sending a thank you letter to Assembly member Mitchell's office and sharing with her community the appreciation she has for SHIELDS being in their lives.
SHIELDS thanks Assembly member Holly Mitchell and all the event sponsors and volunteers for hosting such a wonderful event, we appreciate your generosity to the children and families of LA! "It's moments like these that remind us how special our jobs can be" – Jaime Sheehan, SHIELDS SBMH Program Manager